Calls
This EIT Knowledge and Innovation Community of communities is hosting the next Calls in Q2 of 2022:
The EIT Circular Economy Community launches the Circular Economy Prize

Call on the Environmental Technology Verification (ETV) Programme 
The EIT Circular Economy Community launches the Circular Economy Prize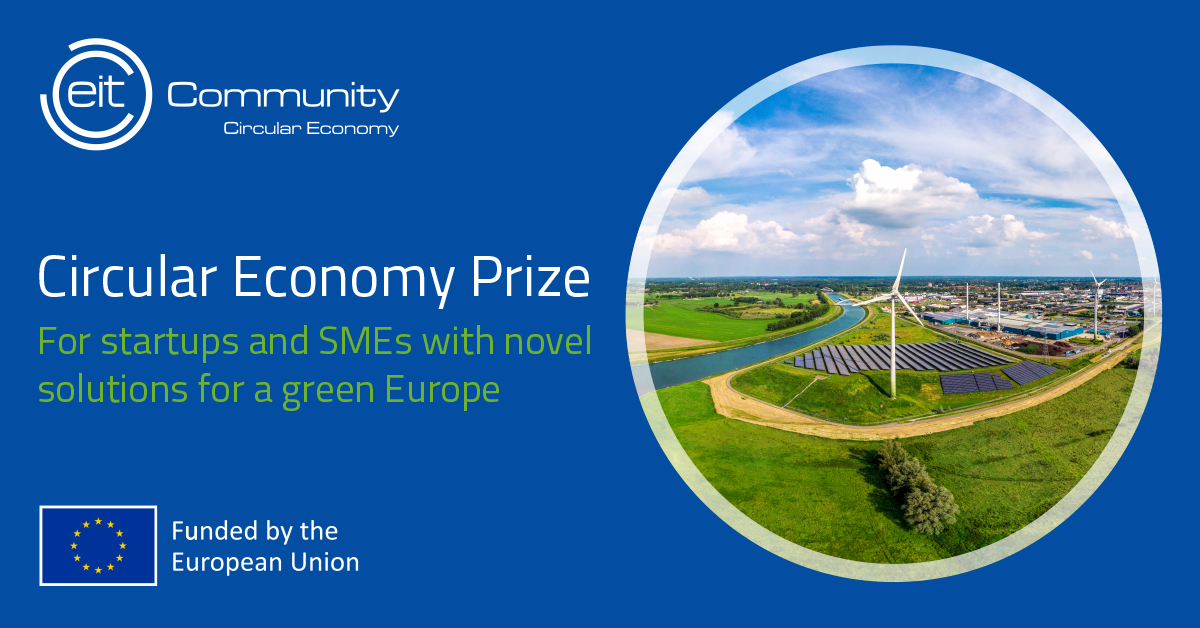 Are you an SME or start-up with an innovative service, technology, or product around circular economy? Compete for the chance to showcase your idea to an expert panel, secure the award prize and be part of the European innovation community!
The EIT Community Circular Economy aims to identify and award relevant start-ups and SMEs with significant new solutions around circular economy.
Compete for a chance to pitch your idea in front of our expert Jury, secure a substantial financial award to boost your product, service or technology and be a part of the vibrant circular economy network of the European Institute of Innovation & Technology (EIT).
Within the EIT Circular Economy Community, EIT RawMaterials, EIT Climate-KIC, EIT Food, EIT Manufacturing and EIT Urban Mobility are joining forces to craft favorable environments for creative thought processes and innovations in circular economy to flourish.
The Application is now open and closes on 31 August 2022 23:59 CEST.
Thematic scope
We are looking for solutions in the areas of:
Topic 1: New circular business models in two specific areas:

From products to services: This model is an alternative to the established "buy and own" approach and includes lending, renting, or pay-for-use agreements. It allows the customer to purchase a service or desired result, rather than buying the product itself.
Sharing economy: The primary feature that defines a sharing economy is cooperation. It creates the opportunity for consumers to tap into the unused potential of products by reducing their idle time and increasing access to goods and services.

Topic 2: Circular economy assessment methodologies: new methodological approaches to monitor and/or quantify circular economy from a general perspective or in specific sectors as critical raw materials, building, food.
Topic 3: Waste valorization including logistics: new ideas and approaches for waste valorization in specific sectors as critical raw materials, building, food including digital solutions to improve logistics.
Topic 4: Digital Products Passports: new ideas and developments in the field of Digital Products Passports as efficient tool to improve materials traceability to support the implementation of sustainable products.
The contest is open to any legal entity or group of legal entities established in an EU Member State or in a country associated to HorizonEurope. For partners and entities that have already received funding by the participating EIT KICs (EIT Raw Materials, EIT Climate-KIC, EIT Food, EIT Urban Mobility and EIT Manufacturing) restrictions may apply. For more information refer to the Rules of the Prize.
Call on the Environmental Technology Verification (ETV) Programme – Extended Deadline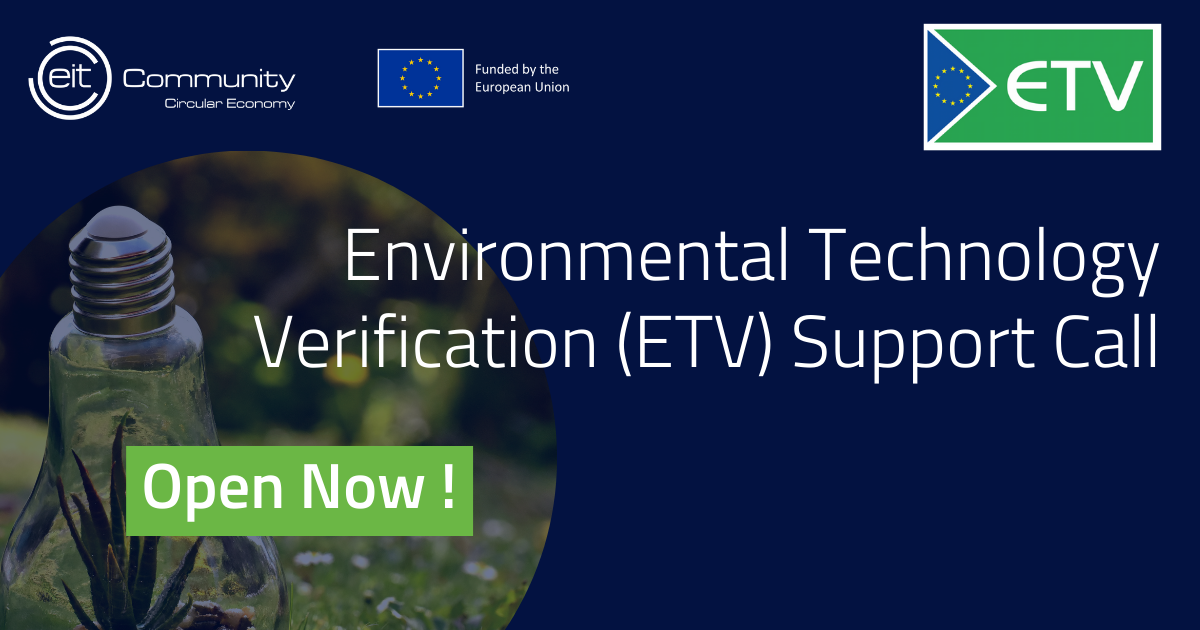 Funding is available to help start-ups and projects get verified on their environmental performance
The Environmental Technology Verification (ETV) is a service provided by the European Commission with the aim to help technology providers proposing innovative, green technologies verify their solutions and provide a quality stamp. The ETV process takes the technology through a third-party validation, which assesses the performance of the technology based on independent and credible information using international standards. The end product is an ETV Statement of Verification published on the ETV website and used in business-to-business relations. This enables technology owners to document the reliability of their claims and differentiate them from competitors, and it helps technology purchasers identify innovations that suit their needs.
The EIT Circular Economy Community launches a call to support companies in obtaining the ETV. The call is open until 30.06.2022 (23:59 CEST). The call guidelines and application form can be downloaded at the end.
ETV is implemented by accredited Verification Bodies in three technology areas:
Water treatment and monitoring (e.g., monitoring water quality, treatment of drinking water and wastewater)
Materials, waste and resources (e.g., separation and sorting of solid waste, recycling of materials, end-of-life products and chemicals, biomass-based products)
Energy (e.g., renewable energy, energy generated from waste, energy efficiency)
The call is open to any partner and start-up participating in the EIT Circular Economy Community (EIT RawMaterials, EIT Climate KIC, EIT Food, EIT Manufacturing and EIT UrbanMobility) with a technology included in any of the previously defined areas that have been supported in any ongoing or finished demonstration project.
Application deadline: 30.06.2022, 23:59 CEST
Upcoming Events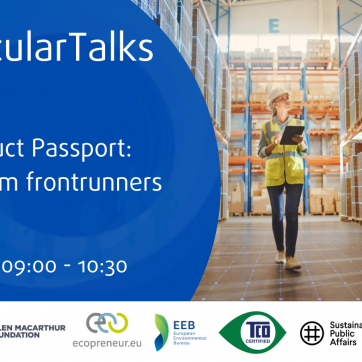 July 8, 2022 / 9:00-10:30 CEST
#EUCircularTalks – Digital Product Passport: Learning from frontrunners
The EIT Circular Economy Community, as ECESP Leadership Group on Sustainable products and design, in collaboration with Ecopreneur, the Ellen MacArthur Foundation, European Environmental Bureau, TCO and the ECESP, invite you to this #EUCircularTalk on 8 July from 9:00 to 10:30 CEST. The event is a timely opportunity to assess EU regulatory initiatives and thinking on digital product passports.
What are the challenges and pathways ahead? Let us hear the answers directly from frontrunner stakeholders that have already conceptualised digital product passports and are operating them in the EU market and learn from their experience.
Agenda
9.00 – 9.05 Welcome and introduction
Maria Nikolopoulou, EESC member
9.05 – 9.45 Presentation of frontrunners on digital product passports, 
Julie Brown, Head of sustainability, product, Eon
Nathan Williams, CEO & Founder, Mindspider
Sascha Bloemhoff, Marketing Director, Niaga
9.45 – 10.00 Presentation by the European Commission
Michele Galatola, Policy officer, European Commission
10.00 – 10.25 Q&A
10.25 – 10.30 Conclusions and wrap-up
Past Events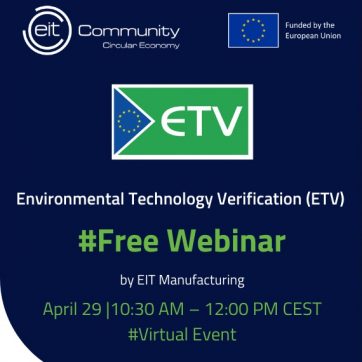 April 29, 2022 / 11:00-12:00 CEST
Webinar on the Environmental Technology Verification (ETV) Programme
The transition to a climate neutral society is currently at the top of our Europe's agenda. The objective: To find the right path for sustainable growth, while preserving the environment and society.  That's why six of the EIT's Innovation communities: EIT Manufacturing, EIT Digital, EIT RawMaterials, EIT Food, Climate-KIC, and EIT Urban Mobility have joined forces to launch a project on Circular Economy.  This newly created Cross-KIC project aims at strengthening the collaboration the EIT's Innovation Communities to fight climate change and promote circular economy. For starters, the project has launched a specific call on Environmental Technology Verification (ETV).  ETV is a tool designed to help innovative environmental technologies access the market. Curious to know more? Join EIT Manufacturing's webinar on April 29 from 10:30 to12:00 CEST.
Agenda
Short introduction of the Cross-KIC Circular Economy Project and the ETV Support call | (10 minutes) Ignacio Calleja, Senior Advisor Circular Economy and Recycling en EIT RawMaterials
ETV description ­| (30 minutes)  Izabela Ratman, ETV Expert
ETV Secretariat | (10 minutes) Martin Pecanka, Senior Project Manager at LGI Consulting
Questions & Answers | (40 minutes) 
December 17, 2021 / 10:30-12:45 CET
Boosting the EU Circular Economy transition through collaboration
An opportunity for academia, civil society, industry, and public administration
Since 2020 the European Institute of Innovation and Technology (EIT) Circular Economy Community has been engaging with civil society, EU and international stakeholders as well as the EIT network by supporting actions to strengthen and optimise the transition towards a more circular and innovative future.
Join our webinar to find out more about our work on the ground and hear the stories of involved actors working with us to increase the uptake of circular innovative solutions. Participants will get the opportunity to interact with the panel of experts and find out more about opportunities coming from the EIT Circular Economy Community programme.
Agenda
First session
10:30 – 10:45 EIT Introduction and welcome (Manuel Irun Molina)
10:45 – 11:00 EIT Circular Economy Community (Ignacio Calleja)
11:00 – 11:15 The European Circular Economy Stakeholders Platform -ECESP (Alice Senga)
11:15 – 11:30 Questions and answers
11:30 Break (10 minutes)
Second Session
11:40 – 11:50 ICLEI (Simon Clement)
11:50 – 12:00 ACR+ (Franceso Lembo)
12:00 – 12:10 Europe Enterprise Network -EEN, Chair of the Thematic Group Circular Economy (Mohini Keunen)
12:10 – 12:20 European Health and Digital Executive Agency -HADEA, European Commission (Floriana La Marca)
12:20 – 12:30 Research Executive Agency -REA, European Commission (Keti Medarova)
Conclusions
12:30 – 12:45 Round table to define how to improve synergies
12:45 End of the event
December 13, 2021 / 10:30-12:00 CET
Environmental Technology Verification (ETV) process: Success stories – Webinar
The EIT Circular Economy Community is supporting breakthrough initiatives and start-ups through the Environmental Technology Verification (ETV) programme. This webinar will give insights on how the ETV facilitates the access of environmental technology solutions to the market and the success stories of previously supported start-ups.
Agenda
10:30 – 10:35 Short introduction of the Cross KIC CE Project (Igancio Calleja)
10:35 – 10:45 The ETV scheme (Martin Pecanka)
10:45 – 11:15 What is the ETV process? (Izabela Ratman)
11:15 – 11:30 Success story (Carborem)
11:30 – 12:00 Q&A
To know more about the EIT Knowledge and Innovation Community call for proposals, please check the respective call section of the participating communities for any currently open calls: